Sequin products can produce amazing shimmer wall or sequin wall and signs for visual merchandising, events.
Whether you're decorating a business, for an event or creating the perfect window display for your storefront, our Shimmer Wall Panel is sure to give you the perfect backdrop. Our beautiful, high-quality shimmer panels are made of fine materials and constructed with expert manufacturing, not only to create an impressive product but to ensure that your wall panel will continue to look amazing after many years of use.

The shimmering panels are comprised of many individual sequins. This allows for maximum shimmer and shine as the individual sequins are allowed to move freely. The fact that the sequins are secured to the back panels individually also means that they will reflect more light, giving you a truly breathtaking focal point. If the sequins were attached in groups, there would not be enough movement and light would not : "dance" across the surface.
Our shimmer wall panels can be fully customized to meet your exact specifications. And when we say that our panels are fully customizable, we mean it. For starters, you can choose between a black, white or transparent background., In addition, you can choose the shape and colors of sequins to use in your backdrop. The sequins are available in circle, square and hexagon shapes so you can create a truly unique backdrop for your space. You can also choose from among over one hundred different colors. With these many choices, you are sure to find the perfect hue for your project.
Need a unique shape? Our beautiful Shimmer Panels can be cut into a variety of shapes. This is the perfect solution if you are attempting to create a custom logo or need to cover a specific space. Even uniquely shaped walls or spaces can be expertly fitted with our beautiful walls.
Our products are often used indoors, but they can also be used outdoor. If you are planning an outdoor event, don't worry about using your Shimmer Wall Panel because it can withstand a variety of weather conditions. In fact because our sequins are individually secured, they are able to move in the wind which allows them to give maximum reflection.
The Shimmer Wall Panel can be used as a free-standing display or can be affixed to a wall permanently. This versatility allows you to use your sequined wall in a variety of ways and in a wide range of spaces.
If you want your shimmer wall to include multiple colors and a complex design, we recommend that you create a pixilated design document (see our website for details) to ensure that your custom order is made to your exact specifications. The document should show a numbered grid overlapping your finished design. This will help us to realize your vision to perfection.
Where do others use their eye-catching Shimmer Panels? The ways our customers have used their Shimmer Panels are as diverse as the customers themselves. Some people have used our shimmering wall panels as store window displays. Our shiny walls create the perfect backdrop on which to display your products and merchandise. And the shiny nature of these walls is sure to catch the eye of pedestrians or window shoppers.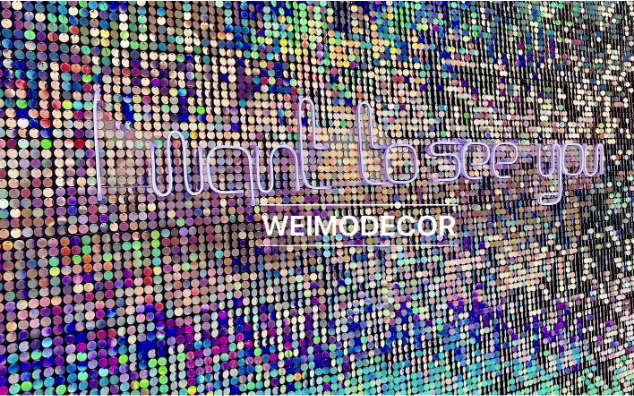 Our Shimmer Panels have also be used to create breath-taking visuals at special events. You can create a dazzling backdrop for your wedding ceremony. Choose a neutral color such as silver or gold or let us create a custom design that features your wedding colors or a design such as the couples' initials or wedding date. You can also use these attractive and eye-catching panels to make a visual splash at conventions. Our shimmering panels are sure to catch the eye of prospective clients as they pass-by your convention booth! We can even create a panel that features your company logo in sparkling sequins.
Need a permanent wall? Our Shimmer Wall panels are perfect as a permanent wall covering. Our panels have been used in hotels, restaurants and other commercial spaces to create a unique and engaging visual focal point for our clients.
Ready to order your own customized Shimmer Wall Panel? We here at Weimodecor are here to help you create the perfect backdrop for whatever you need. Feel free to contact us via the handy "Chat Online" feature on our website. If you would rather contact us through email, please use the form on our website. We are also available by telephone or WhatsApp/WeChat.