Why choose the air-active shimmer wall decor from WEIMODECOR?
All along, the shimmer wall decoration we have seen is a static plane or static 3D. Therefore, WEIMODECOR sequin wall panel supplier grandly launched an air-active wall decoration. When the special day is coming, how do people hope to surprise each other? WEIMODECOR can give an unexpected shimmer panel backdrop for the friend's wedding anniversary, the friend's birthday, the baby's birth, and various festivals or parties. WEIMODECOR can give you inspiration and joy.
Why the air active wall decoration can become a surprise gift?
If you have a pet in your family, do you wish to make it into an air-active wall decoration? WEIMODECOR can realize this wish. As long as we pick up the mobile phone, take a pet photo and send it to WEIMODECOR, WEIMODECOR can design and make as the following: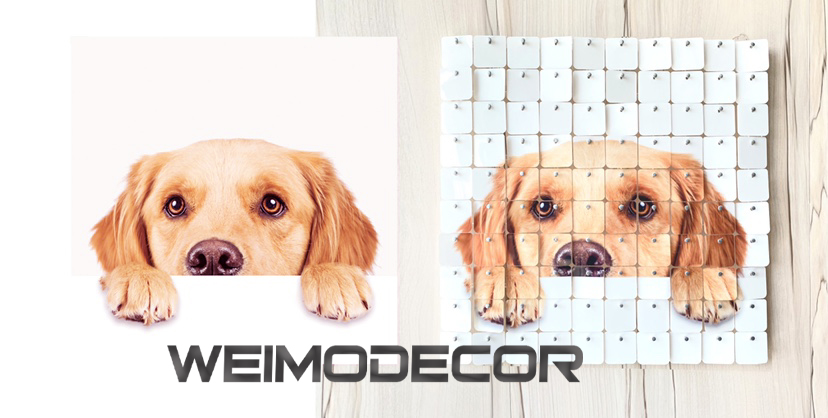 If you have a pet dog in your family and your friends also have a pet dog or cat, and you want to get all your pets together, let WEIMODECOR bring them together happily.
At important festivals, if you want to give each other a unique gift, please feel free to contact WEIMODECOR. We will make a surprise gift for your friends, family or partners according to your requirements.
We have also designed the Christmas décor this year. The following is just one series.

For the importer or the wholesales or online retails, if you are searching the new items for this Christmas decor, please feel free to contact WEIMODECOR sequin wall panel supplier. We will supply you with good quality, competitive quotation, and professional business service as we have nearly 20years of exporting experience.
Have Any Questions? Get Touch With WEIMODECOR Now!
Email to us: Sophie@weimodecor.com
Call us: 0086-574-27866813